Children with Down Syndrome are still babies, and they show interest in toys and other forms of entertainment, of course. However, parents need to pay more attention when choosing toys for toddlers with down syndrome. It's not about how expensive and sassy, but how suitable the gifts are for their kid's development.
This buying guide will help all families to figure out the most amazing toys for kids with down syndrome.
What To Know About Down Syndrome
According to Wikipedia, Down syndrome (or Down's syndrome) is also known as trisomy 21. This syndrome stems from a mistake happening during the early progress of the fetus, ranked among the most common chromosome abnormalities in humans.
Specifically speaking, it is the abnormal cell division involving chromosome 21 that results in Down Syndrome.
About 1 in 1000 babies born each year are diagnosed with Down Syndrome. They have poor immunity system function and suffer from an increased risk of some health problems such as heart defect, epilepsy, leukemia,… Life expectancy is around 50 to 60 years, provided that they live in a developed world with proper health care.
Note that the parents can be genetically normal with no relevant signs. The older the mother gets, the more likely her child will be diagnosed with Down Syndrome. From 0.1% for 20-year-old mothers, the probability is increased to 3% for those of age 45. This happens without having anything to do with behavioral activities or environmental factors.
Gifts For Down Syndrome Child
Kids learn through playing with their toys, so do toddlers diagnosed with Down Syndrome. Yet, Down Syndrome disorder is associated with physical growth delays and intellectual disability. Therefore, they need more proper care, education, and amusement.
The average IQ of a young adult with Down Syndrome is 50, which is equivalent to a 9-year-old child's mental ability. For this reason, toys for down syndrome child should foster both educational and fun-having purposes.
Keep in mind that Down Syndrome kids have low muscle tone. Hence, it will be a challenge for them to reach and handle toys that have complicated structures.
Singing and dancing are also excellent choices of gifts for toddlers with Down Syndrome. Music plays an important part in encouraging social interaction and stimulating language skills.
In case you haven't thought of an ideal option, why not take a look at our list below and select the best for your beloved kids?
1. Play Mats
Play mats appear in almost every list of toys recommended for toddlers with Down Syndrome. It has bright colors to draw more attention and keep your kids easily engaged. Besides, a play mat is sure to aid motor functions including reaching, grasping then releasing objects.
Parents can always modify the mat with simple hanging accessories to facilitate more skills. Because children like to explore and try out new things, visually engaging toys and color recognition games will prove to be of help.
2. Floor Mirror
Like play mats, a floor mirror is also a great choice for tummy time, which helps your babies to enhance their gross motor development. When they try to lift the head and chest to keep their stance stable, their muscle tone will gradually be enhanced. By doing this, they will have fewer difficulties in grasping tasks over time.
The mirror frame is finished with high contrast colors to become more appealing to kids, so don't be surprised if your child immediately falls in love with it. By looking at themselves in the mirror, they can build up more social engagement ability and visual senses.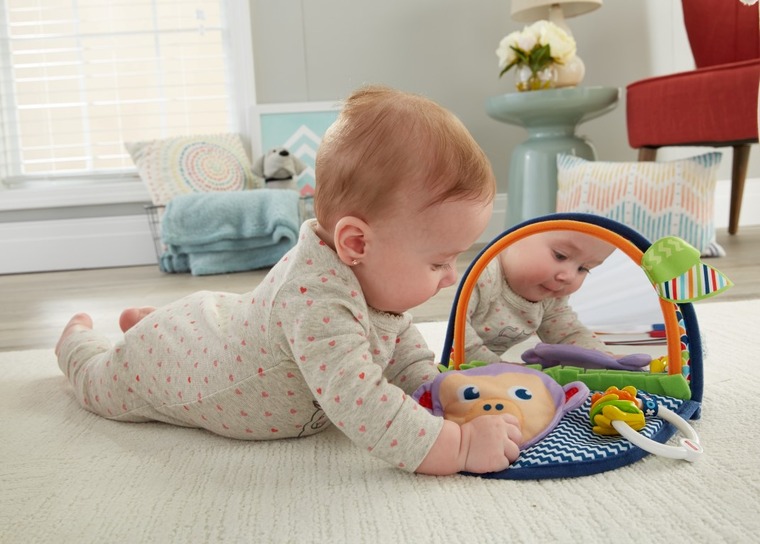 3. Down Syndrome Awareness T-shirts
Not exactly a toy but a cute T-shirt can bring a brand new positive vibe, especially when the whole family decide to wear them as a group shirt.
There are a whole host of T-shirts decorated with Down Syndrome Awareness Themes on the market. However, go for the ones that are printed with lovely graphics and motivational quotes.
They can not only become part of a good family outfit but also make your baby turn excited and curious about the eye-catching designed patterns and colors on the shirt.
In case you haven't figured out where to find them, check out these down syndrome awareness t-shirts on Hyperfavor. They have gained recognition for their premium-quality products, ranging from apparel collections to accessories.
4. Squigz
Simple as it may look, this toy is useful for a high diversity of purposes and activities. They are a multi-sensory toy that helps promote muscle strengthening, motor coordination, and even engagement skills.
No exaggeration, but there are endless ways to interact with these suction cups and design a fun game for kids. Stick them on the walls to create a reach-and-grasp challenge so your kids will have to try their best to collect them, improving their body muscle functions. use them as bath time entertainment to get your child engaged in communication and pleasure.
5. Ball Poppers
Of all gifts for down syndrome teenager, don't miss out on a ball popper. Probably, it will appeal to your children through colors and funny figures like unicorns, elephants, or dinosaurs.
However, it can act as a tool to toss the ball from a distance (by jamming the ball then squeeze the head) – which is why it is called a "ball popper". Of course, this is a little bit more challenging to practice moving quickly and catching objects, not quite suitable for toddlers.
Even so, it doesn't matter if your kids with Down Syndrome can manage to catch the balls or not. By joining in this game, they are bound to practice physical training sessions that facilitate more muscle improvement and agility.
6. Puzzles
This may not be the correct choice of toys for toddlers with Down Syndrome. Yet, it still appears in this list since many people consider puzzles a must-have item for all kids when they grow up and become capable of solving one.
Screen out puzzles with abstract and artsy themes. Instead, opt for underlying pictures of funny animals and animated objects. These will aid visual recognition and perception, especially visual memory, problem-solving, and cognitive development, even a little bit of motor skills when they have to reach and put pieces into the right place.
7. Block Shapes
What's better than a block shape sorter to help entertain every kid? For a child with Down Syndrome, it can boost hand-eye coordination when he/she tries to place the shapes into correct slots.
Some toys now can play joyful music and sound with or without a digital screen – whenever the child manages to place a block properly, which is good for the baby's sensory development.
8. Ball Pit Play Tent
A ball pit tent is no doubt an amazing choice for sensory-related games. Playing with the balls, learning the shapes, tossing them around, and crawling after them… all are beneficial for cognitive development and muscle tone enhancement.
Apart from an area that is wide enough to place the tent, it doesn't have any drawbacks. Kids can have fun all day long without getting bored, and parents can pop their heads in a side hole to play peek-a-boo while having free time with them.
9. Move & Groove
The rules are simple: Kids toss the cube, find the matching color card, and perform what is required to do, like shuffling, doing jumping jacks, or dancing. This is a typical kind of toy that stimulates a host of personal skills: creativity, movement, visual recognition, and memory.
In a nutshell, Down syndrome does not define who your kids are and what they do in the future. All parents are responsible for valuing each child's uniqueness as well as helping them live a life full of kindness and empathy. We wish your family the best of luck and hope that our guide has assisted you well in finding the right toys for toddlers with Down Syndrome.
10. Rody Horse
One of the most favorite toys voted for children with Down Syndrome. This will aid your kids in promoting strength and balance.
When they ride it, their whole body needs to coordinate with both arms, legs, and feet to stay balanced without tottering down the path. There are now many Rody Horse variations that cater to your child's needs in case they prefer a more stable and bigger version.
A kid scooter is another choice of ride-on toys. It provides a narrow seat or standing area for the child to hold on then push with the other feet.
---
Christmas is coming our way. Don't forget to spare a second and check out How to Explain Santa Without Lying by Parenting Q&A.